We are super excited for our collaboration with local spice merchant The Silk Road to bring you two new exclusive Calgary flavours swirling Friday, May 5, 2017
Chai Coconut Cardamom and Lavender Creme Brulee.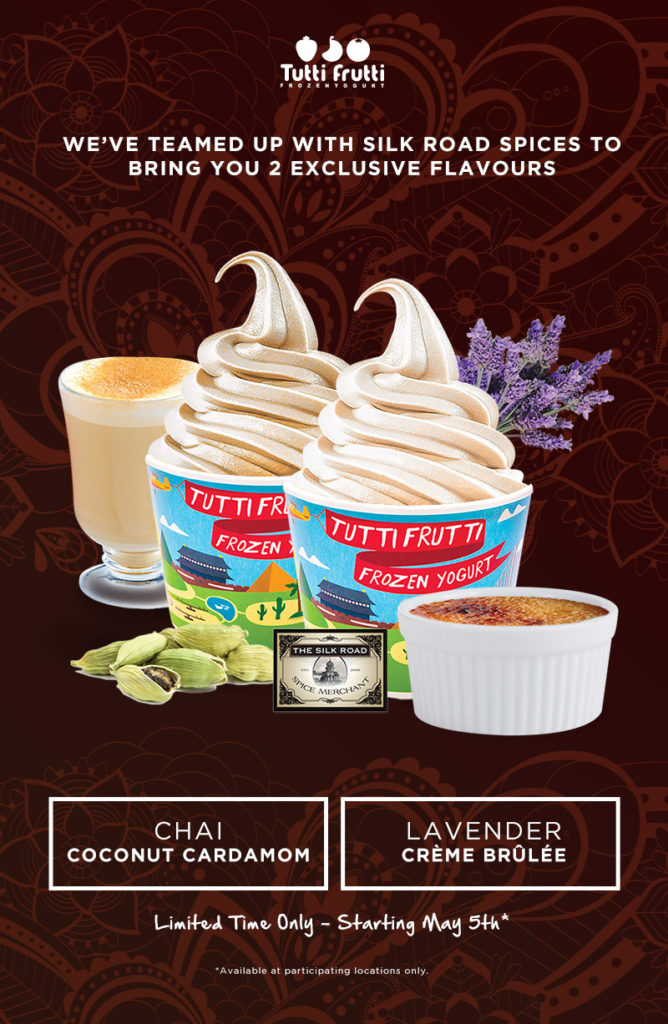 About The Silk Road Spice Merchant
 In 2008, Colin and Kelci (the owners) were becoming interested in cooking Indian and Mexican food and realized that while there were places in Calgary where one could find unusual Indian and Mexican spices and chiles, there was no one specialty spice store that had an excellent selection of spices from every regional cuisine. On further research, they discovered that in all of Canada, there was not one single spice shop that did a good job of making spices from around the world interesting and accessible, with good packaging, good information and a good shopping experience.
They began to explore the idea of doing it themselves. With much time and effort, they researched spices, suppliers, packaging and business practices and incorporated the Silk Road. They spent a full year creating the business, focussing on developing a high-quality product line, an appealing brand identity, and a website that would be the next-best-thing to shopping in person.
As the business began to show promise, they transitioned from their day jobs to working for the Silk Road. By the spring of 2010, they were both dedications to the business full time.
Previous to this, Colin worked as a writer for Critical Mass, a digital marketing agency and Kelci was a Registered Nurse, working in the community and mental health. At the time The Silk Road came into being, they had a baby daughter named Juniper. Juniper has grown up helping in the store and taking naps under the Mexican spices cabinet.
Learn more:  www.silkroadspices.ca