Overview
If you're looking for a business that you can be proud of – with high quality products, a great reputation, solid head office support, and foolproof systems, then look no further. Tutti Frutti, a division of Well Spring Inc, is the largest specialty frozen yogurt retailer in the world. Currently sitting at over 700+ stores worldwide, Tutti Frutti is making an impact in the global business landscape.
The success of a Tutti Frutti franchise lies in the hands of the franchisee. It is our job to set you up for success and that's a role we honor and take very seriously.
Why Tutti Frutti
Self-Service Model
Clients love to serve themselves because it gives them the freedom of creating their own dessert!
Frozen Yogurt is Healthy
Especially since it contains probiotics!
Financial Stability
Low cost allows for flexible and competitive product price points, higher profit margins and a faster ROI
Flexible Layouts
Can be set up at kiosks, in-line stores, or even against a wall!
Great Locations
Our Franchises are situated on high-traffic streets, strip malls and shopping centers (including the largest shopping mall in North America!). With the average size of 1000 sqft stores may vary from 290 sq. ft. to 2000 sq. ft+.
High Success Rate
With 680+ locations in over 30 countries around the world, there has been a 97% success rate.
Simple & Efficient Operation
Our efficient operation model typically needs no more than 2-3 employees on any given shift.
Low Start-up Cost
Perfected our product, making our own yogurts, and supplying them to retailers all over the world as our core business. First to introduce Soy based frozen treat option
Developed a turnkey model that lets you focus on serving up good product with first-class service, removing the headaches of figuring out cost formulas, branding, and product development. Our franchise training is simple, easy to remember, and quick to implement.
Dedicated marketing team as we assign our marketing rep to every location to ensure success.
Our business model is built on low investment, low overhead, simple training, and easy-to-access resources for our franchisees. We want to make sure we remove all barriers to your success. Our franchisees are a direct representative of our brand, and that's where we want to focus.To find out if this is the right business for you, we encourage you fill out our application form today!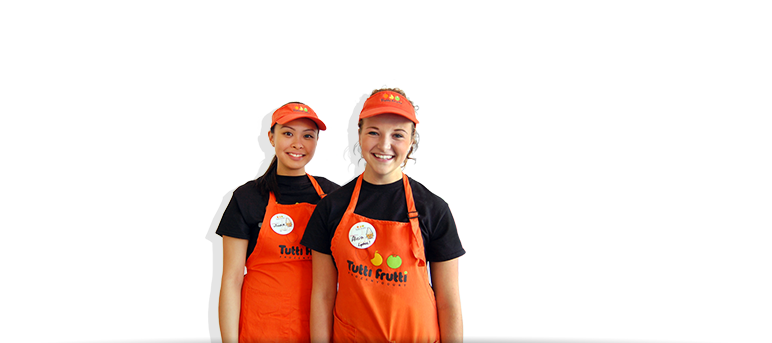 Becoming a franchisee
There are a few critical steps involved in becoming a franchise partner. In order to determine if this is the right opportunity, consider the following:
Do you support the brand? Is the product something you can proudly represent?
What is your background? Have you ever run a business before? What has your role been in other businesses you have run or worked at?
Are you good with people – or do you have someone on your team that is?
Are you willing to invest your money into your own business?
Do you have retail or hospitality experience?
If all of these questions lead you further into the process of owning your own Tutti Frutti store, then it's time to understand our process.
Our Process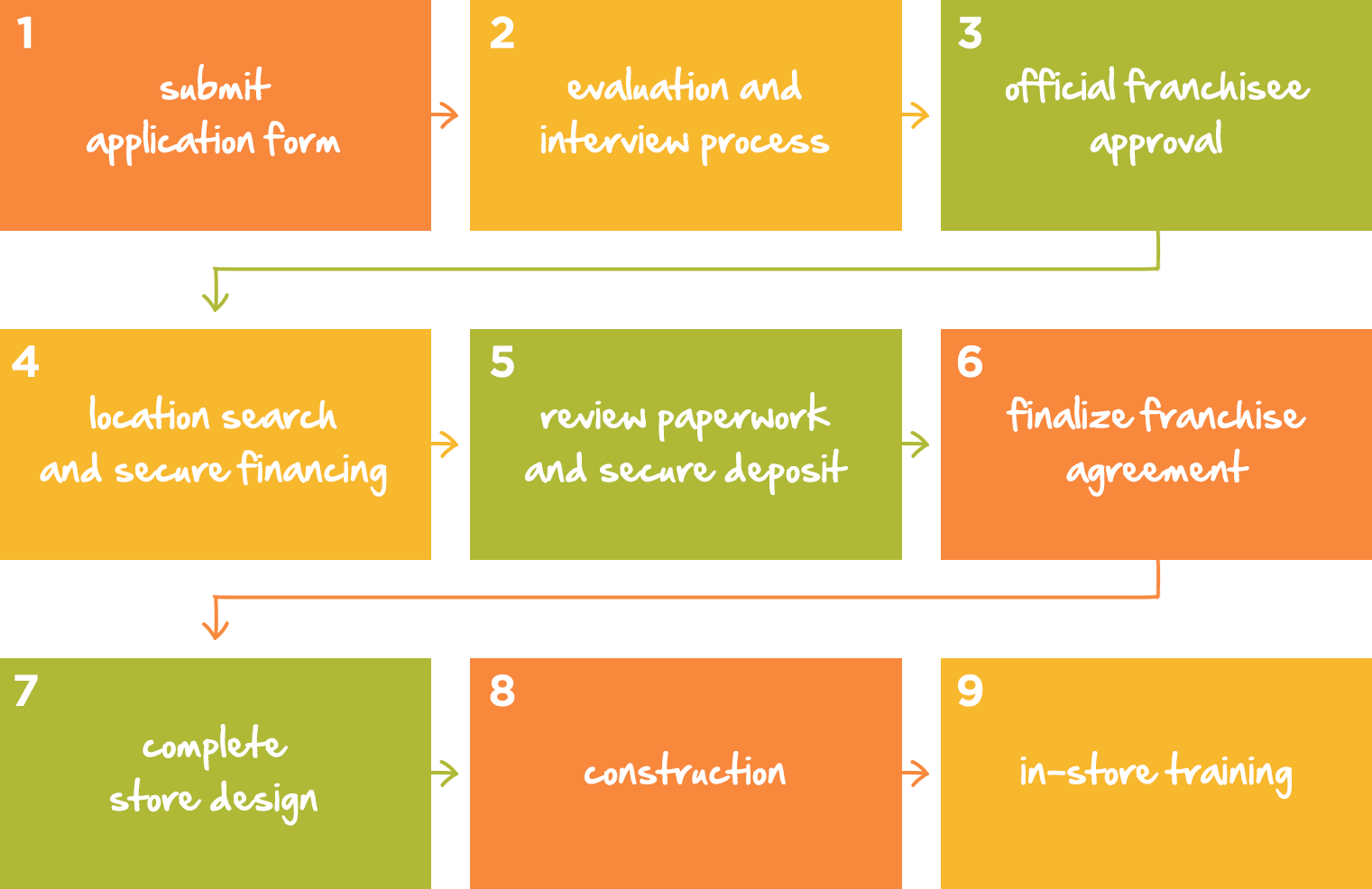 FAQ
How much does it cost to own my own Tutti Frutti store?

Depending on the size of the space, the cost ranges between $300,000 to $425,000.

What do I need as an initial investment?

Minimum of $150,000 in cash or liquid assets.
| Estimated start-up costs | Low | Medium | High |
| --- | --- | --- | --- |
| Total | $302,000 | $372,000 | $427,000 |
| Franchise Fee | $25,000 | $25,000 | $25,000 |
| Design/Architect | $10,000 | $10,000 | $10,000 |
| Construction | $157,000 | $210,000 | $238,000 |
| Yogurt Machines | $37,000 | $46,000 | $65,000 |
| Inventory | $25,000 | $25,000 | $25,000 |
| Marketing | $10,000 | $10,000 | $10,000 |
| Kitchen Equipment | $18,000 | $23,000 | $28,000 |
| Furniture | $7,000 | $10,000 | $13,000 |
| POS | $13,000 | $13,000 | $13,000 |
What is the franchise fee?

At Tutti Frutti Frozen Yogurt our franchise fee is $25,000.

What are the royalty fees?

At Tutti Frutti Frozen Yogurt our royalty fees consists of 5% of gross revenue which is calculated on a monthly basis.

What type of marketing does Tutti Frutti execute on a corporate level, and what are we responsible for on an in-store level?

Our marketing department will analyze your location and target market prior to open and provide on going support available at any time to all franchisees. New materials, regional and national campaigns help build your brand presence and success. You will have access to our 24/7 marketing portal and industry relationships to ensure you have everything you need to build profits.

What are the marketing fees?

There are two types of marketing fees: 1) Co-operative marketing fees of 3% of gross revenue that's collected on a monthly basis, and 2) Local marketing fees of 2% that is tracked for every location, however not collected by headquarters.

Is there a training process for new franchisees?

Absolutely! Our training program has received a lot of great feedback as we make sure all franchisees are ready to take over business operations for their own store. Tutti Frutti offers two types of training during start-up: 1) one-day training in our corporate location in Edmonton, and 2) three-days of onsite training at the franchisee's location. Our mature training program includes all the manuals, guides and operation templates that we've perfected throughout the world. We even have a DVD with videos that we leave behind to remind franchisees of the training!

Can I buy a territory, or just an individual store?

Yes territories or regions are available, however we will only entertain these agreements with existing franchisees.

Does Tutti Frutti help with selection of a location?

Tutti Frutti can provide assistance such as referring you to our network of leasing brokers, however the identification of location is franchisee responsibility. Typically franchisees already have an area or location in mind, and therefore we found this process to be most effective. The final approval of a location remains with Tutti Frutti.

How long does it take to open a Tutti Frutti?

In general, it takes anywhere between 4-6 months from the time of signing the franchise agreement to opening the doors for the first time.
Online Franchise Application
Thank you for your interest with Tutti Frutti Frozen Yogurt Canada – The largest self service frozen yogurt chain in the world. To get started and to learn more we invite you to request an application form below. One of our dedicated team members will shortly be in contact with you to guide you through the process of owning your very own Tutti Frutti Frozen Yogurt Store.
Please note there will be a non-refundable $250 application fee ( $350 per couple same household )  to begin the process after confirming your e-mail. Thank you.
TF Fan
Be the first to know about special promotions, events, and new flavours. Enter your e-mail below: