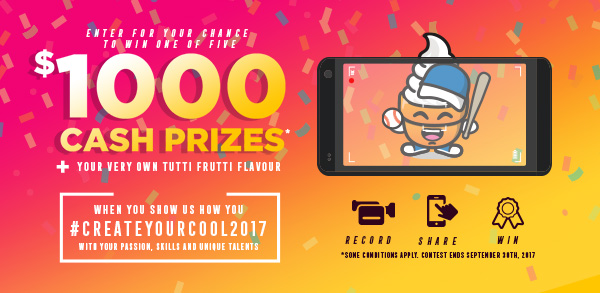 Create Your Cool for your chance to win 1 of 5 $1000 Cash Prizes and your very own Tutti Frutti Frozen Yogurt Flavour

Enter from September 4 – September 30, 2017
What are you passionate about? Tutti Frutti Frozen Yogurt's Create Your Cool talent contest for all ages, showcases your passion, talents and skills. We want to see your unique abilities and how you CREATE YOUR COOL. FIVE winners will each receive a #CREATEYOURCOOL2017 prize pack which includes a $1000 CASH PRIZE and the chance to  create of their VERY OWN TUTTI FRUTTI FROZEN YOGURT FLAVOUR.    Good Luck!
How to Enter on Instagram | Guidelines:
• Introduce Yourself to Tutti Frutti Frozen Yogurt
• Post a 1-Minute or less Video Showing Us How You Create Your Cool
• What Would Your Dream Frozen Yogurt Flavour Be?
• Hashtag #CreateYourCool2017 and Tag @TuttiFruttiCanada
• Follow Us @TuttiFruttiCanada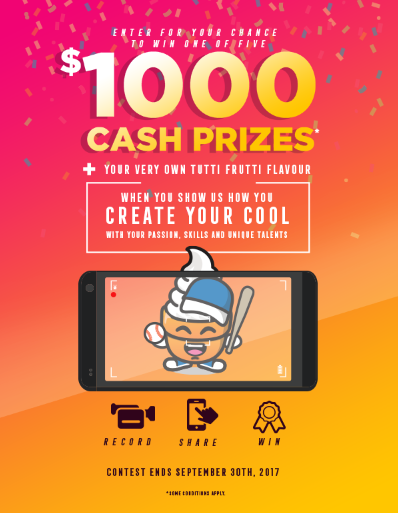 **Purchase not required. Some restrictions may apply. Tutti Frutti Frozen Yogurt ( TF Yogurt Canada Inc. ) Once the contest has closed on September 30, 2017, the winners will be selected the following week at random to be the recipient of 1 of 5 grand prizes of $1000 and the chance to create his/hers own feature flavour.