Meet Danisha, a mentor, leader, and educator who has recently been named as one of Edmonton Avenue Magazine's Top 40 Under 40. As a past little sister, herself, she is now the Manager of Fund Development at the Boys & Girls Clubs Big Brothers Big Sisters of Edmonton + Area. Through the organization, she continuously makes a positive difference in the lives of youths all around her. We were thrilled to have an opportunity to talk to her and hear about the daily life of an individual who brings such great awareness and positive impact to our community.

Can you tell us a bit more about you and what you do?
I work as the Fund Development Manager with Boys & Girls Clubs Big Brothers Big Sisters of Edmonton & Area (BGCBigs). It's such a rewarding experience and I know personally that the services that we provide make a difference in the lives of children and families. I know because I was one. I was a Little Sister with the agency since I was 10 years old and had a Big Sister who supported me during some challenging times in my adolescence. I was also afforded a scholarship through the agency which covered my undergraduate degree at the University of Alberta. After I finished school, I worked as a Probation Officer and then for the Inner City Children's Project. Then I moved to Montreal and worked for Big Brothers Big Sisters there. 4 years later, I moved back home after I got a job offer from BGCBigs. I've come full circle and I love it here!
If any, which organizations are you involved with?
BGCBigs (professionally) and then I volunteer as the Chairperson for the Aga Khan Youth & Sports Board in Edmonton, I'm a Rotarian with the Edmonton Northeast Club, and I sit on the UofA-Festival of Ideas Advisory Board and the Edmonton John Howard Society Board.
How did you get started?
I attribute all my success to my family and Big Brothers Big Sisters. All the opportunities that were afforded to me are linked to those two things.
Have you ever had an " Aha" moment and or if you had a greatest achievement what would it be?
When I received the phone call that I had gotten a scholarship that would pay for university. My mother was a single mother and I never knew if I'd ever be able to go to University and pursue my education. This scholarship changed the course of my life.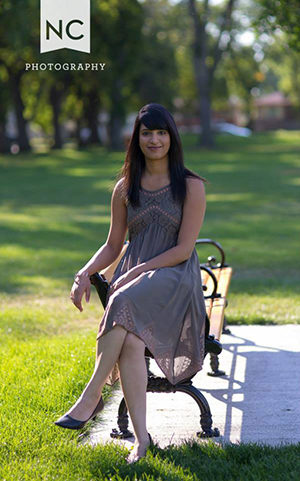 What keeps you going? What motivates you daily?
My life, both professionally and personally, centers around improving the lives of children and families in our community. That's what keeps me motivated.
Do you have a daily ritual to help you find balance in your day?
A caramel corretto in the morning to remind me that life is sweet. I try to meditate in the evenings when I can. And a good dose of TV right before bed. Those are my "soft" moments between meetings.
What are your absolute favourite Edmonton restaurants?
Rosebowl and Rouge Lounge (best pizza in the city), and Earls Restaurant – I adore their chicken wings and caeser salad. Oh and Sorrentino's in Little Italy – I'm grateful I can walk there from work.
Whats are your top picks and must have on your iPod right now?
Anything latin/salsa. I love music that makes me dance!
Where do you seek / find inspiration?
Most of my inspiration comes from my colleagues and volunteers that I get to work with. They're making our community a better place! When life gets to be a little too much though, I can always escape to the mountains and get a dose of rejuvenation from there! But I won't lie, I tend to go on pinterest to check out their motivational quotes too!
Any parting advice, quotes or mantra?
"No one has ever become poor by giving" Anne Frank
What is your favourite Tutti Frutti Flavour?
Cookies 'n Cream
You can find and learn more about Danisha at:
Web Site www.huffingtonpost.ca/danisha-bhaloo/
Twitter @danishabhaloo
LinkedIn: Danisha Bhaloo
Facebook: www.facebook.com/danisha.bhaloo